Poetry Friday
26 Friday Oct 2007
Leaving It to You
Self evident, truth mistakes no thing.
But my heart's a long way from there
and nothing's very clear.
Yellow gold is almost burned up
by my desire.
White hair grows by the fire.
Bitter indecision: choose This, or maybe That.
Even the spirit speaks in riddles
and makes it hard to harvest
the essence of a single day.
Catch the wind while you tether shadows.
Faith, or a man who'll stand by his word, is
all there is. There is no disputing.
— Kuan Hsiu (832 – 912), Chinese Ch'an poet, as translated by J.P. Seaton.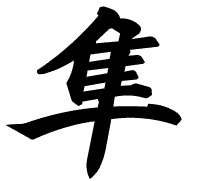 I Stand Alone
A falcon hovers at the edge of the sky.
Two gulls drift slowly up the river.
Vulnerable while they ride the wind,
they coast and glide with ease.
Dew is heavy on the grass below,
the spider's web is ready.
Heaven's ways include the human:
among a thousand sorrows, I stand alone
— Tu Fu (712 – 770), Chinese Ch'an poet, as translated by Sam Hamill.